There are many situations in which the ProPress System is an ideal solution.
One of the things that we are known for here at East Atlantic Plumbing LLC is that we stay on top of innovative improvements that come along in the plumbing industry. We are always on the lookout for products that streamline our work to save you money while providing benefits over traditional products.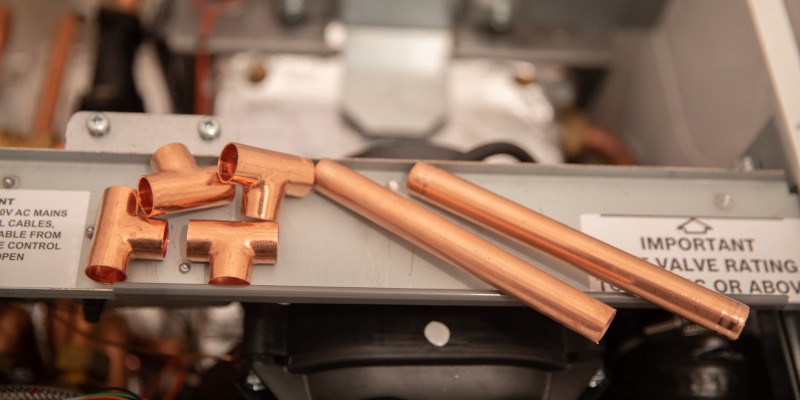 When we learned about the Viega ProPress System, we took the time to investigate whether these fittings would be an improvement over soldering and what applications they would be ideal for. We have found them to work perfectly for a variety of commercial and residential applications. Here are some of the reasons why we choose to use ProPress System fittings on many of our projects.
No open flame- Soldering requires an open flame, which might prove dangerous in some instances. ProPress System fittings do not need a flame at any point of the installation.
Faster process- Any plumbing project involves material and labor costs. If we can do your plumbing project more quickly using these fittings, we can pass the labor savings on to you. It might not be noticeable on a small job, but it can really add up for a large project, such as new construction installations and repiping projects.
Wet conditions- With soldering, the pipe must be dry to continue, but that isn't the case with ProPress System fittings. This allows us to save time even on repair tasks and let you get on with the rest of your day sooner.
Tight spaces- We can't tell you how challenging it is to work in a confined space if we need to have all the tools and supplies to repair or install using soldering. Just one tool is all we need with the ProPress System.
If you would like to know more about the Viega ProPress System or any of the materials we use on projects in the Myrtle Grove, North Carolina area, don't hesitate to reach out to us.
---
At East Atlantic Plumbing LLC, we offer services using ProPress systems in Wilmington, Carolina Beach, Wrightsville Beach, Leland, Castle Hayne, Myrtle Grove, Ogden, Kure Beach, Porters Neck, Bayshore, Kings Grant, Northchase, Hampstead, and throughout New Hanover County, Brunswick County, and Pender County, North Carolina.